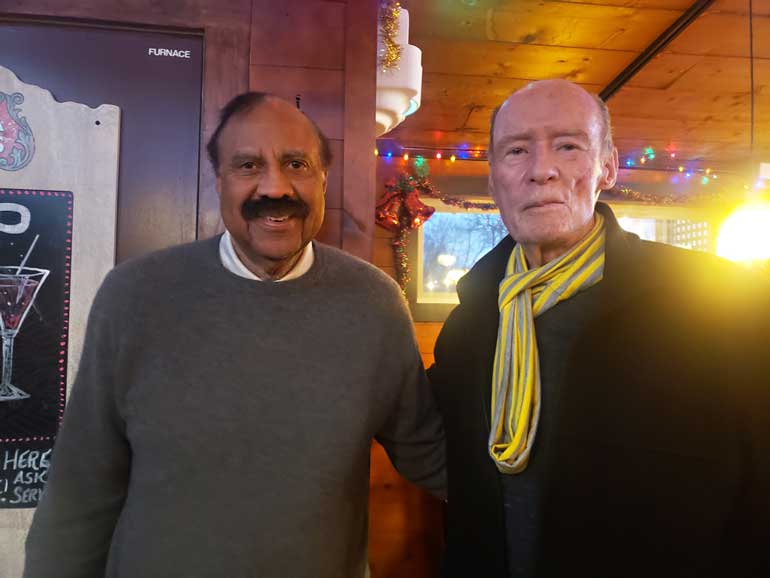 Internationally acclaimed businessman and philanthropist Patrick Arbor (right) joins the Fred Mitchell Award Selection Committee.

Patrick Arbor, former longtime chairman of the Chicago Board of Trade and a prominent community supporter, has joined the Selection Committee for the Fred Mitchell Award.
Arbor has backed numerous local, national and international initiatives and continues his worldwide travels. The Fred Mitchell Award annually has recognized the top non-FBS kicker in the country since 2009. Kickers from more than 750 FCS, Division II, Division III, NAIA and community colleges are eligible.
In addition to kicking performance, community service is a key factor in picking the winner.
"I am honored to join the Fred Mitchell Award Selection Committee," said Arbor, who was a longtime member of the Loyola University Board of Trustees.
"The community involvement and leadership that Pat Arbor has displayed throughout his remarkable life provide a wonderful example for our kicking candidates to follow," said Mitchell.
Arbor joins the Selection Committee that includes several Pro Football and College Football Hall of Famers, as well as other prominent business leaders, media members and former FMA winners. Longtime Selection Committee member Carl Allegretti has been inducted into the National Football Foundation Leadership Hall of Fame.
Ethan Ratke, the 2021 winner of the Fred Mitchell Award out of James Madison University, automatically becomes a member of the 36-man Selection Committee. Committee chairman Rob Perry will post a preseason Watch List for the 2022 season in August. Kickers will be recognized each month throughout the season before the Top 10 list is announced in late November. The winner will be notified in early December and the Fred Mitchell Award trophy will be handed out during the National Football Foundation Chicago Chapter ceremony, hosted by NFF Chicago chapter chairman Chris Kearney on Feb. 20, 2023.
College sports information directors are urged to submit the name and previous kicking information of their candidate to Rob Perry (futballdaylong@gmail.com) winner, as soon as possible.
Here is the complete list of the members of the Fred Mitchell Award Selection Committee, as well as past winners of the award:
Selection Committee
Luis Aguilar: 2019 Fred Mitchell Award recipient from Northern Arizona University
Roldan Alcobendas: 2018 Fred Mitchell Award recipient from Eastern Washington University
Carl Allegretti: NFF Outstanding Contribution to Amateur Football Award, Selected for NFF Leadership Hall of Fame. NFF Board Member, played football at Butler University
Patrick Arbor: Former chairman of the Chicago Board of Trade. Prominent philanthropist, community supporter and worldwide
traveler. Longtime trustee for his alma mater, Loyola University
Tom Beck: College Football Hall of Fame Head Coach, National Football Foundation Chicago Metro Chapter Board Member
Kevin Butler: College Football Hall of Fame kicker from University of Georgia, NFL kicker for Chicago Bears and Arizona Cardinals
Sergio Castillo: 2013 Fred Mitchell Award recipient from West Texas A&M University, NFL and CFL kicker
Matt Cotiguala: 2015 Fred Mitchell Award recipient from St. Ambrose University
Matt Davis: 2016 Fred Mitchell Award recipient from University of North Carolina at Pembroke
Sean Gothier: National Football Foundation Minnesota Chapter Founder & Board Member, vrbo Citrus Bowl Team Selection Committee
Teddy Greenstein: Former Chicago Tribune sportswriter and former Heisman Trophy voter
Chris Husby: Special Teams Football Academy owner focusing on kicking, punting and snapping
Mike Husted: NFL kicker for 9 seasons and at the University of Virginia, Founder of National Camp Series network of kicking coaches
Football League and Ball State University kicker, Founder and Director of National Kicking Rankings camps
Dan Jiggetts: Ivy League Hall of Famer, co-captain at Harvard, Chicago Bears offensive lineman, NFF Chicago Metro Chapter Board Member
Chris Kearney: NFF Chicago Metro Chapter Board President, vrbo Citrus Bowl Team Selection Committee
Conrad "Connie" Kowal: Sports marketing executive formerly with the New Orleans Saints and Chicago Cubs
Greg Loberg: Partner at Loberg & Associates
Nick Lowery: Inducted into Kansas City Chiefs Hall of Fame as kicker, Dartmouth College kicker
Tom Lynch: 2011 and 2010 Fred Mitchell Award recipient from Saint Xavier University, kicked for 2011 NAIA National Champions
Steve McMichael: College Football Hall of Famer from University of Texas including briefly as kicker, NFL with Chicago Bears and Green Bay Packers
Jeff Michalczyk: Received NFF St. Louis Chapter Scholar-Athlete Award, played linebacker at Drake University
Fred Mitchell: Wittenberg University Hall of Fame kicker, American Kicking Hall of Famer, AFA Minor League Football Hall of Famer
Mark Murphy: Green Bay Packers President, Team Captain on Washington Redskins Super Bowl teams in 1983 and 1984
Patrick Murray: 2012 Fred Mitchell Award recipient from Fordham University, NFL kicker for Tampa Bay Buccaneers and Cleveland Browns
Tom Obarski: 2014 Fred Mitchell Award recipient from Concordia University St. Paul
Rob Perry: Fred Mitchell Award Selection Committee Chairman, vrbo Citrus Bowl Team Selection Committee
Don Pierson: Retired Chicago Tribune pro football sportswriter, member of the Pro Football Hall of Fame writers' wing
Ethan Ratke: 2021 winner of the Fred Mitchell Award from James Madison University. Consensus All-American who kicked more field goals during his career (101) than any kicker at any division.
Jeff Schebler: 2009 Fred Mitchell Award recipient from University of Wisconsin-Whitewater, DIII National Champion, 4 time All-American
Bob Thomas: NCAA Silver Award recipient at Notre Dame, made the winning FG to win 1974 National Championship, 12 years in NFL
Wolfe Tone: National Football Foundation Chicago Metro Chapter Board Member, was Herky Hawkeye mascot at University of Iowa
Cole Tracy: 2017 Fred Mitchell Award recipient from Assumption College, 2018 Lou Groza Award Finalist at Louisiana State University
Todd Wilkins: University of Wisconsin-Whitewater kicker including for conference championship teams in the late 1980s
Gary Zauner: University of Wisconsin-LaCross kicker, NFL and College Kicking Consultant, Special Teams Coach for 13 years in the NFL
Rob Zvonar: Head Coach at Lincoln-Way East High School including multiple Illinois State Championships, coached 2007 US Army All-American Bowl
Past Winners