The history of African Americans in professional football is a complicated, alarming, and yet remarkable journey that warrants detailed research and analysis.
Gary Burley, a former outstanding defensive lineman for the Cincinnati Bengals and Atlanta Falcons, has made it his mission to chronicle those often-overlooked chapters in a new book entitled: "Glory: The Struggle For Yards." It is written with acclaimed veteran journalist Donna Francavilla.
"I think that there were some amazing players during the early 1900s and the early 1920s that were accepted because that was almost before this huge discrimination effort became nationwide," said Francavilla, who happens to be a neighbor of Burley in Birmingham, Ala.
"And they were able to make some inroads. But of course, their accomplishments were swept under the rug. And so, by uncovering it and unearthing it, we can see that great players, inspirational players were always there, always doing the right thing for the right reasons.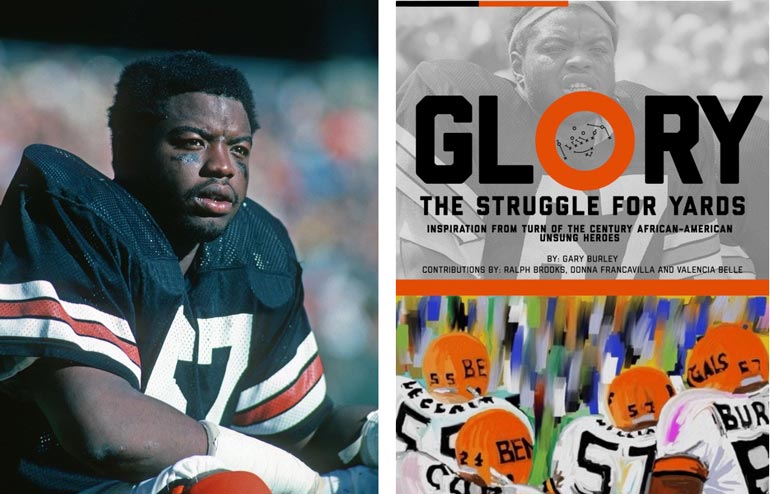 "They were playing for very little money. They were tolerating a lot of discriminatory practices and maltreatment. And they persevered and they got through. And for all those reasons, I think that we deserve to know more about them because they were outstanding people. We only chose five, but obviously Fritz Pollard, had the longest chapter. He accomplished the most. And from what I've seen about him in the videos that exist, he had a hell of a personality."
Pollard was one of the first two African American pro football players and he was the first African American coach in the NFL. He was inducted into the Pro Football Hall of Fame posthumously in 2015.
The other four African American pioneer players profiled in the book are: Burt Toler, Gideon Smith, Charles Follis and Henry McDonald.
Burley, whom I coached at Grove City High School in Ohio in the early '70s, wants the current young NFL players to become more aware of the history of the game.
"I would love to get with John Wooten, who was my former sports agent," Burley said. "We could start from day one, educating not only high school football players and elementary kids, but for (NFL players) that don't know what they went through. I mean, you got guys that made $15 a game and (some players now) are making $50 million a year. They have no appreciation for what these guys went through.
"So, we want to take the opportunity to teach them some of these things. And the book will be the prime way to do it."
Fancavilla also wants the world to know about the courage and perseverance of Burley, who has survived cancer, a kidney transplant, brain surgery, a stroke, and other physical maladies.
"If you look at Wikipedia, and on the internet, it's just bare bones," she said. "And so, it's the first time we've taken personal photographs of his, snapshots of some of the things that are important to him, some of the footballs he received and pictures and awards and included those in his bio."
Francavilla has undergone two brain surgeries herself.
Burley's wife, Bobbie Knight, is the president of Miles College in Alabama.
"And so, the book is dedicated to his wife, who he loves dearly and is well respected in this community," said Francavilla. "And we focus a little bit on Gary because some of the things he's been through personally have been remarkable, at least to me. And I feel like everyone else would like to know him the way I've gotten to know him."
Burley, who founded a foundation several years ago, plans to host his annual golf charity event on Oct. 16 in Birmingham.
"And this time we're doing a scholarship for five kids at Miles College for student-athletes," Burley said proudly. "And my coaches, my former coaches and my teammates have honored me with a scholarship to give to these kids. Burley's former college coaches at Pitt were Johnny Majors and Jackie Sherrill. With the Bengals, he is honoring Paul Brown and Forrest Gregg.