Hundreds of friends and well-wishers turned out for a fundraiser for former Chicago Bears legend Steve "Mongo" McMichael in Romeoville, Il. on June 5.
My wife, Kim, and I were invited for a private visit to his home prior to the event, dubbed "MongoPalooza," which was held at McMichael's restaurant. The former Super Bowl XX champion defensive tackle revealed publicly on April 23, 2021 that he has been diagnosed with ALS (Amyotrophic Lateral Sclerosis), an incurable and insidious nerve disease.
"I am feeling the love," McMichael told me as we reminisced for an hour and talked about the support he has been receiving before the public event. I covered most of Mongo's Bears career for the Chicago Tribune and watched his often under-valued contribution to one of the most intimidating defenses in NFL history. Three members of that defense are in the Pro Football Hall of Fame: Dan Hampton, Mike Singletary and Richard Dent. Inducted into the College Football Hall of Fame in 2010, McMichael also should be recognized as a Pro Football Hall of Famer, sooner rather than later.
During his 15-year NFL career, McMichael had 95 sacks and 17 fumble recoveries as a 6-foot, 2-inch, 270-pound dynamo. Perhaps more significantly, the two-time Pro Bowl selection often took on double-team blocks and allowed teammates such as middle linebacker Singletary to flourish.
McMichael, 63, sat in his motorized wheelchair (provided by the Bears) spinning yarns as his attentive wife, Misty, and I alternately placed and then removed requested cigarettes from his mouth. He no longer has use of his limbs because of the neurodegenerative muscular disease. We all smiled as we recalled Mongo and Misty showing up at our wedding reception 20 years ago at Ditka's Restaurant.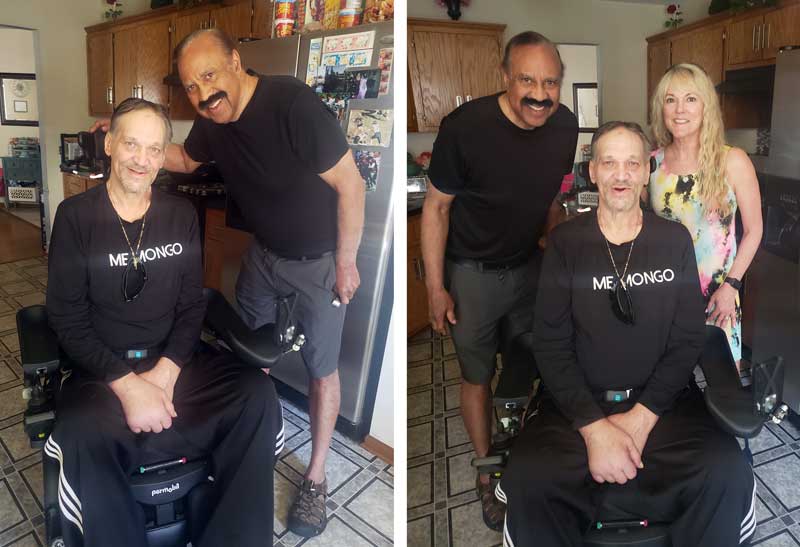 Bears legend Steve McMichael shared stories with me before his fund-raising event.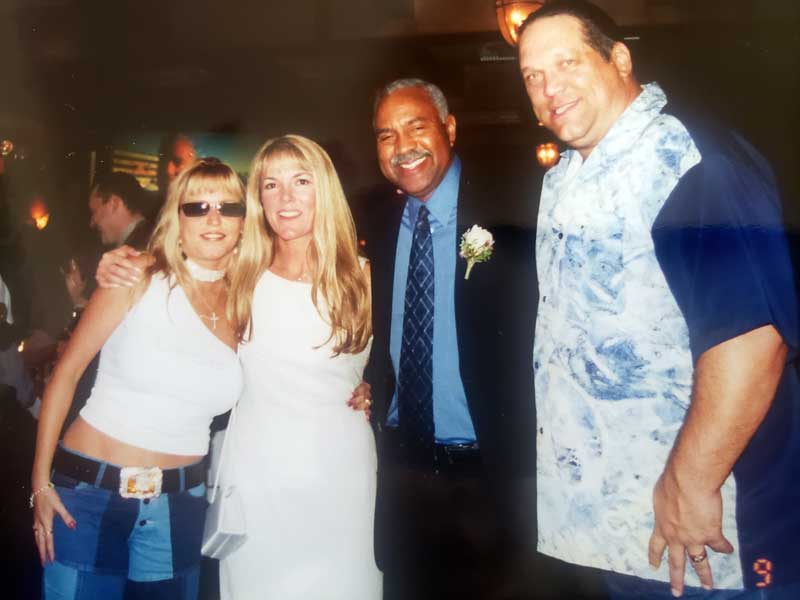 In 2001, Steve and Misty McMichael attended our wedding reception.
Facing the grim reality of his mortality, McMichael expressed special concern for his 13-year-old daughter, Macy. McMichael pointed out that he was just 19 when his step-father was murdered and how that loss was devastating to him.
Few Bears fans are aware that McMichael also was an excellent straight-on kicker in high school (All-State) and at the University of Texas. Thus, he was enthused to become a member of the selection committee for the annual Fred Mitchell Award back in 2009. The award, handed out by the National Football Foundation, honors the best kicker among over 750 non-FBS colleges in America, based on kicking performance and community service.
McMichael subbed for injured University of Texas All-American kicker Russell Erxleben for two games and connected on 7 extra points and 2 of 3 field goal attempts, including a 48-yarder. With the Bears, McMichael occasionally kicked off when Kevin Butler wasn't available.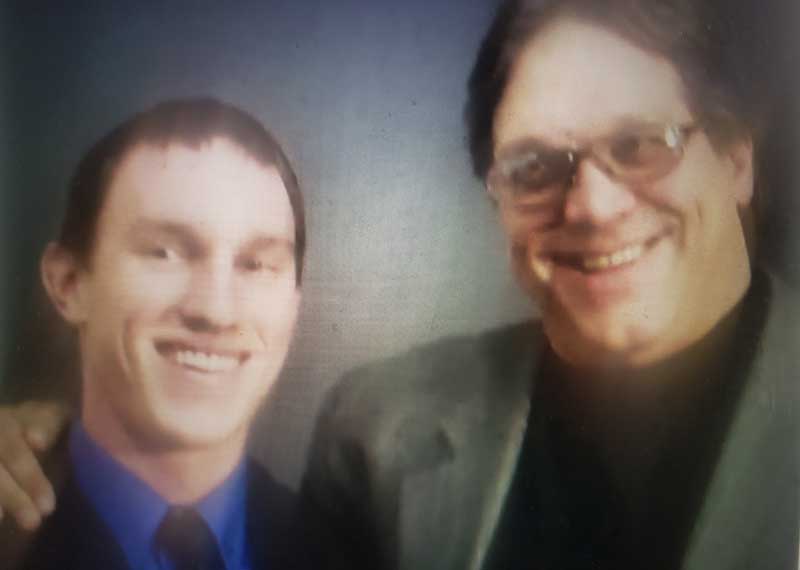 As a member of the Fred Mitchell Award selection committee, McMichael helped honor 2009 winner Jeff Schebler from Wisconsin-Whitewater.
Following the stunning revelation of his ALS diagnosis, several fund-raising events have been organized by prominent Chicago marketing specialist Betsy Shepherd (Connected Communication LLC). Former coach Mike Ditka and teammates Jim McMahon, Otis Wilson, Tom Thayer, Jim Thornton, Gary Fencik, Jim Morrissey, Hampton, Butler, Dent and several others have showed their support by attending the various Chicago venues. And Shepherd has set up a GoFundMe account for the McMichaels for their soaring medical expenses. The account has raised over $200,000.
"I even got a call from (former Packers quarterback) Don Majkowski," said McMichael, who finished his NFL career in a rival Green Bay uniform.
At the MongoPalooza event, former pro wrestling colleague Ric Flair was at McMichael's side. And teammates Hampton, Wilson and McMichael performed musical renditions on a huge outdoor stage. When he was healthy, McMichael also was a part of that popular "Chicago Six" band that performed regularly throughout Chicagoland.
In one of the several Chicago Bears books I have written, McMichael told me: "There is something to be said about those guys who come into the league with a chip on their shoulder. I had been drafted in the third round by the New England Patriots in 1980, but they cut me in training camp and said they thought I was part of a criminal element in the league. I had been hanging out partying and having a good time. Word got back to Patriots management, and they didn't like that much. It was a humbling experience.
"By the time I got to the Bears as a free agent, I knew I had to prove myself all over again, prove that I could play in the league and play well. New England told me I wasn't good enough to start in this league, baby. But George Halas- 'Papa Bear'- who signed me to my first contract…he was just mean enough to like who I was."
Bears fans, who watched him play 191 straight games, came to love McMichael for who he was, as well.