In 2009, the National Football Foundation made me the namesake for an annual award that honors the most outstanding kicker among over 750 colleges in America. For that, this old straight-on kicker remains forever grateful, especially to Chicago chapter chairman Chris Kearney.
In addition to kicking performance, community service is considered by our 35-man selection committee, which includes several members of the Pro Football and College Football Hall of Fame, as well as prominent coaches and businessmen.
Committee chairman Rob Perry recently announced the 2021 winner of the FMA is Ethan Ratke from James Madison University in Harrisonburg, Va. The Dukes are 12-1 as they enter the semifinals of the FCS tournament against perennial powerhouse North Dakota State. Ratke has converted 29 of 32 field goal attempts to this point, as well as 61 of 62 extra points. Even more impressively, Ratke is the all-time college career leader in field goals made with 101. No kicker at any division has ever kicked more. Additionally, Ratke has a whopping total of 540 points, most all-time among college kickers and second among scorers from all positions.
Ratke's gaudy numbers belie his inauspicious start to his kicking career.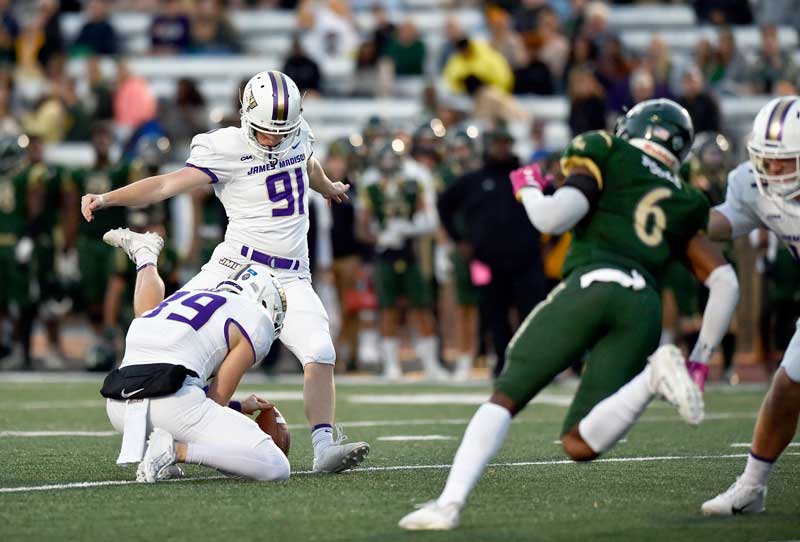 Ethan Ratke has converted 29 of 32 field goal attempts to this point this season, as well as 61 of 62 extra points.
"Like a lot of kickers, I grew up playing soccer and that was really what I was passionate about for a long time," Ratke told me. "And going into high school I thought I maybe was going to play soccer in college. I hoped to anyway. Before I got into high school, one of my good friends was thinking about being a kicker and I went out with him and I was kicking, too. And I was like, 'Hey, I am kind of good at this and this is pretty fun.' So, a couple of hours later I told my dad about it when he came home from work. I told him I kicked like a 40-yarder and he was like, 'No way.'
"My dad (Raymond Ratke) played Division III football at Carthage College (in Wisconsin). He was a running back and a kickoff returner. He and I went out to my high school field together and I kicked a couple of balls. He just laughed and said: 'You've got to go out for the team.' So it sort of took off from there."
Ratke realized he had the raw talent to compete as a kicker for his high school team, but he needed refinement.
"I practiced the whole summer before high school ball started," he said. "Kind of randomly I met this guy who saw me kicking while driving by. He pulled up and started asking me about it and I said I was going to go out for the team. He said he was working with a few guys and before I knew it he was coaching me. He was coming to practice pretty much every day. By my senior year, he was basically like our special teams coach. And since then he has been a great friend to me. He still comes to my games today. He really kind of got me started."
Ratke improved with tutoring and began finding success at Atlee High School in Mechanicsville, Va.
"In high school I really enjoyed kicking and I started to like it a little more every year," he said. "But I didn't know what I wanted from it. My junior and senior year I played well enough (15 of 19 FGs) that I was getting looks from colleges. I was thinking that I was going to play Division III at Randolph-Macon and that is where I was being highly-recruited and I liked them a lot. But then I got a call from JMU, and JMU was the only Division I school to give me an offer…to give me a walk-on offer. I came and visited and loved it and committed a couple of weeks later."
At that point, Ratke lacked strong conviction that he could become successful on the college level.
"I still didn't know what my goals were exactly. One thing that you find out quickly when you come to college is that basically everyone who goes to play in college is one of the best on their team in high school," he said. "The competition is heightened so much that my freshman year I really didn't do much of anything. I just kicked off and I really didn't kick a live field goal my whole freshman year. I just struggled in general not having a whole lot of confidence and not being sure of what I wanted. I almost quit multiple times. I have been so fortunate to have so many people in my life like my parents and my kicking coach at the time and all of the other specialists around. Every kicker knows that the specialists you have around like the kickers, punters and snappers spend so much time together and get so close…I am so lucky to have those guys."
Ratke redshirted his freshman year and his perseverance finally began to pay off.
"I decided to stick it out and before I knew it, my redshirt freshman year I earned the backup job and started kicking more and got more confidence. Our starting kicker (Tyler Gray) got hurt midway through the season and I took over. It has kind of just taken off since then," he said.
Now Ratke finds himself as the most prolific kicker in college football history when it comes to field goals made and points scored. And he checks all the boxes when it comes to community service, helping out with local welcome back-to-school initiatives and wrapping presents
"I never even thought about these records or all of this kind of stuff. My goal at the time was that I just want to do well and give our team a chance to win games because we had always had great teams," Ratke said. "We are able to score a lot of points and get into field goal range a lot. And that is a big factor in my success. I just want to do well for them. And they have always had so much faith in me.
"It has just snowballed into this huge thing for me and my career…there are just so many people where none of this would have been possible without my father just having all of this faith in me to go out for the team, and my mother (Amy) supporting me all of these years and my brother (Evan) giving me all of the support…if I had never met this guy at the beginning who pushed me and taught me so much about the core stuff about kicking that sticks with me today… all of my friends."
I had the pleasure of surprising Ratke via a Zoom call to let him know that he was the 2021 winner of the Fred Mitchell Award, adding to his collection of All-America honors and Special Teams recognitions.
I plan to present the FMA trophy to Ratke during halftime of a James Madison basketball game in front of his fellow students and other fans in late January. Ratke joins previous FMA winners Jeff Schebler, Tom Lynch, Patrick Murray, Sergio Castillo, Tom Obarski, Matt Cotiguala, Matt Davis, Cole Tracy, Roldan Alcobendas and Luis Aguilar. Their complete bios are located on the award website: www.fredmitchellaward.com.
"This award means so much to me and I appreciate you and everyone else thinking about me," Ratke said graciously. "It really comes down to me being lifted up by so many people."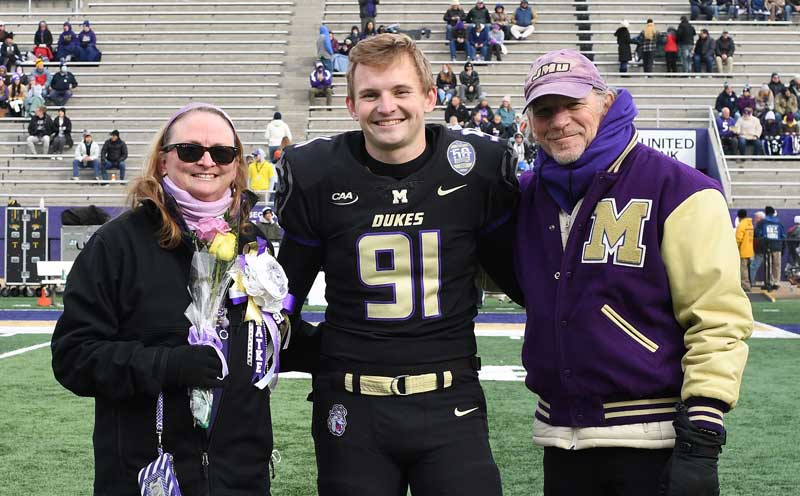 Ethan Ratke with his parents — Raymond and Amy Ratke.