Chris Merritt, head football coach at Bryant University, realizes he has a tremendous weapon in 2022 Fred Mitchell Award winner Ethan Gettman.
Gettman, from Ormond Beach, Fla., led the nation (FCS) in field goal percentage (93.3) in addition to booming a school-record 56-yard field goal last season as a junior.
"I think this football team and this coaching staff has a tremendous amount of faith in Ethan," said Merritt. "That's why we put him out there in so many situations. Even as far as 56 yards away. That kick, ironically, was probably good from 65. He has really come into his own. He fills many buckets for us because he does kickoffs well, also."
Kicking has been a family passion for the Gettman family. Ethan's father, Joe, grew up playing soccer. His sons- Ethan, Noah and Jacob- also have a soccer background, but kicking a football has become essential.
"It was probably around 8th grade, because my older brother (Noah) was in his freshman year of high school. So my dad kind of said: 'You're going to kick, too.' So I started training with Dan Lundy, who runs 4th Down University down in Florida. He has helped me a lot and all through (Mainland) high school. He was my special teams coach in high school, so it was nice to work with him every day at practice. Then I was recruited here by Coach Merritt and they put the trust in me these last few years to be able to kick and punt here."
Ethan, 6-4, 190, also has a school-record 82-yard punt on his resume at Bryant. But placekicking looks to be his better professional kicking possibility at this point. Older brother Noah has distinguished himself as a top punting prospect, first at Sacred Heart University and then at Akron University.
"I grew up punting and kicking throughout high school. I was just able to take the time every day and perfect the craft, making sure I took the time to do the right drops and the right kicking steps for field goals, as well," Ethan said.
An important criteria for determining the winner of the annual Fred Mitchell Award (www.fredmitchellaward.com) is community service, and Ethan checks that box, as well. Kickers from over 750 non-FBS colleges in America are eligible.
"The past few summers I have been volunteering and helping my kicking coach….Coach Lundy… helping to train high school kids so they will have the opportunity to play college football like I have," Ethan said. "It really has just helped me realize that it not only helps them, but it comes back and helps me as well. Because it lets me connect with the community and it allows me to do something nice and give back. Also, in my high school career, every summer we would have like a Pop Warner Camp where we would get underprivileged kids from our community, and we would bring them in and we would have a free football clinic day. It gave me an opportunity to give back to the community and learn about other people as well. I have also done some blood drives here at Bryant. That just gives back to the community, as well…and some road cleanups."
So how did Ethan decide to leave the comforts of Florida to attend Bryant University in Smithfield, R.I.?
"Bryant is a small school. I really enjoy it personally. I have a really close-knit group of friends here.The football team is great and we are a great community. It gets cold sometimes, obviously, but it's not too bad. I really enjoy it up here. It's awesome; I am glad I came here," he said.
Coach Merritt was a key figure in recruiting Ethan.
"Ethan's brother (Noah) kicked in our conference, coincidentally. So I think they had a little bit of knowledge about Bryant before. So that helped us in recruiting,"Merritt said. "If you had an award that was also the most improved, I think you could give that one to him, as well. He has come quite a distance in just 12-14 months.
"In New England, not too far from the (Atlantic) ocean, we get all kinds of (weather) conditions. He has been very aggressive with the way he has prepared himself for wind and rain. The last game we played was in 10-degree weather over in Pittsburgh. So he has come a long way and we are excited for his future and he will be a big weapon for us moving down the line."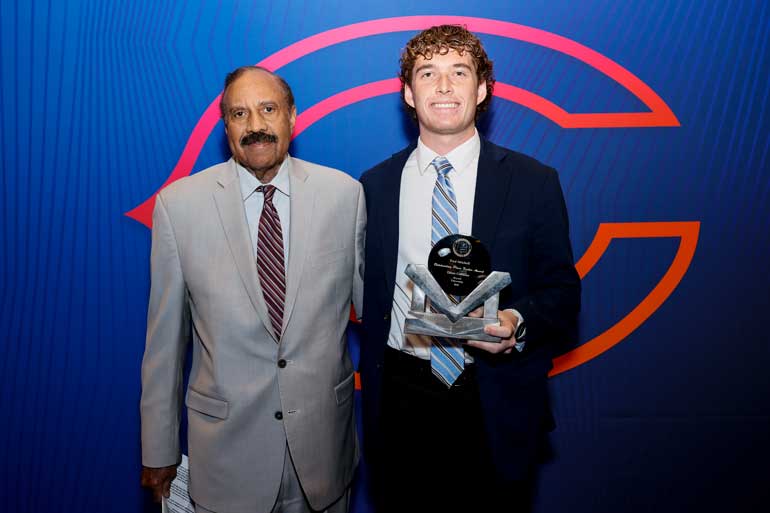 Ethan Gettman was presented the 2022 Fred Mitchell Award during the National Football Foundation ceremony at Halas Hall in Lake Forest, Ill.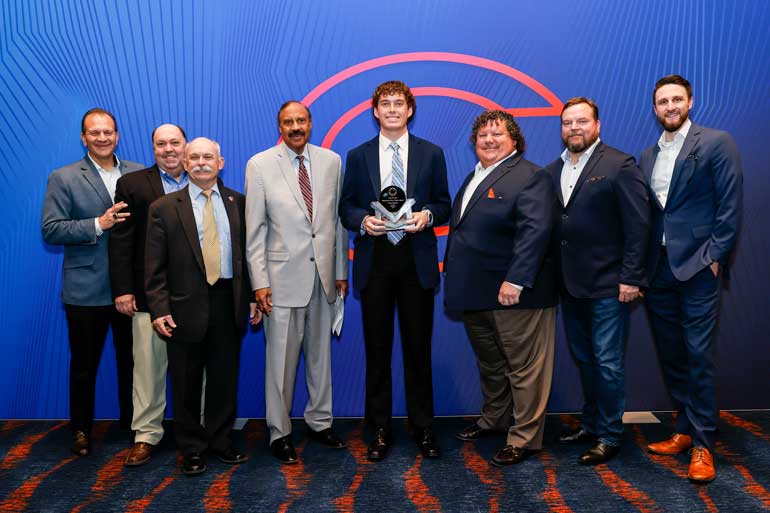 Several members of the 35-man Selection Committee for the Fred Mitchell Award were on hand for the Feb. 20 ceremony at the Chicago Bears training site.